What are vitrified tiles?
Vitrified tiles differ from other tiles in their composition. Ceramic tiles, for example, are made from a combination of earthen clay and water, whereas vitrified porcelain tiles are created by combining clay with elements like quartz, silica and feldspar. This creates a glass substrate throughout the body of the tile, giving it a sleek and smooth texture. As a result of this glass-type product, vitrified paving slabs are very strong, durable and water resistant without the need of glazing for protection.

Vitrified porcelain paving uses a dye that is mixed in with the clay and other elements before being placed in the kiln. This results in a consistent colour throughout the whole of the tile (unlike ceramic tiles, where the plain composition is coated with a glaze and colour after being created, meaning any chips or abrasions to the tile will be far more noticeable).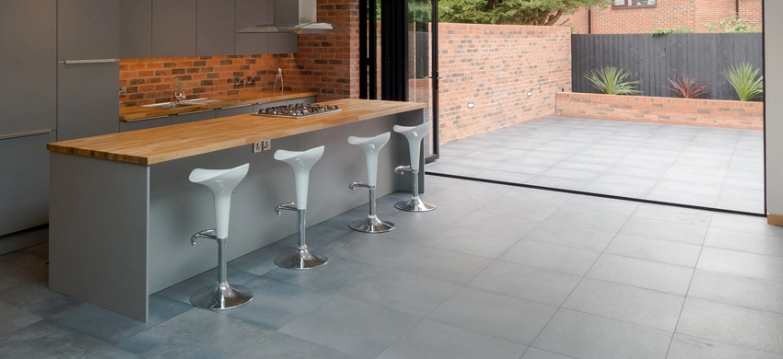 Vitrified floor tiles for less stress
Due to their durability, strength and aesthetically-pleasing appearance, our vitrified floor tiles can be used in a number of different spaces, such as high-traffic commercial areas as well as inside and outside of homes. Because of the paving's sleek finish and resistance to UV light, spills and stains are easy to clean, and the colour will not fade over time. PrimaPorcelain's vitrified paving requires minimal maintenance, giving you more time to enjoy your living space.

Our 20mm vitrified paving slabs can be combined with our 10mm thick vitrified tiles to create a truly seamless transition between your interior and exterior living spaces – perfect for a modern look and feel.