Lawn Pavers
Whether you already have a lawn in your garden or you're planning to add one, we think that porcelain paving and lawns make the perfect pair! Adding pavers to grassy areas creates a stable surface to walk across and is also visually appealing.
Browse Our Outdoor Tiles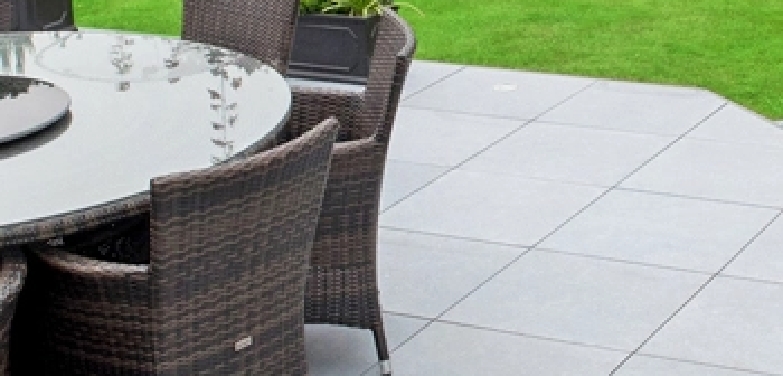 Add a Garden Path
If you already have a beautiful lawn in your garden, you might consider using PrimaPorcelain paving slabs to create a charming garden path. Walking on grass not only spreads mud and dirt around, it also damages your lawn, so it's a good idea to add a solid, stable walkway that allows you to cross your garden without stepping on the grass.

PrimaPorcelain's 20mm thick outdoor tiles make superb lawn pavers. Their low porosity means that they absorb very little moisture, so your porcelain paving slabs won't be damaged even when the grass is soaking wet. We have a range of different colours and styles to choose from, all of which look fantastic alongside a lush green lawn.
View All Garden Paving
Complement Your Lawn with a Patio
If there's an area of your garden that you'd like to get more use out of, why not add a patio?
A patio is the perfect place to put garden furniture or a barbecue without detracting from your lawn's beauty.
Converting part of your garden to a patio will reduce the total amount of maintenance your outdoor space requires, giving you more time to relax and enjoy the scenery. We offer low-maintenance lawn pavers in a
huge range of colours
, so finding a shade to complement your lawn is easy!
If you're interested in our porcelain lawn tiles, please contact the PrimaPorcelain team – we'll be more than happy to help you with your lawn paving project.
Get In Touch