Pedestal Supports
PrimaPorcelain's 20mm thick paving slabs are designed for dry installation* using our adjustable pedestal supports, which range in height from 43mm to 58mm. If a greater height is required, we can also provide pedestal extension collars – each one adds 30mm to the total pedestal height.

Our ingenious pedestal support system allows you to achieve a level surface very easily whilst also increasing both thermal and acoustic insulation. The void between the porcelain paving slabs and the substrate allows for housing cables and pipes. This is the quick and easy solution for installation – no paving skills are necessary, which is great news for DIY enthusiasts! No mortar, adhesive or grout is required for installation, meaning our 20mm pavers are clean to install. The surface can be used immediately – no curing time is required for mortar/cement or adhesive, and the paving slabs are also easy to take up and move elsewhere.

* Please note: should dry installation not be feasible, our 20mm paving products can also be laid in the traditional manner on a mortar/cement base.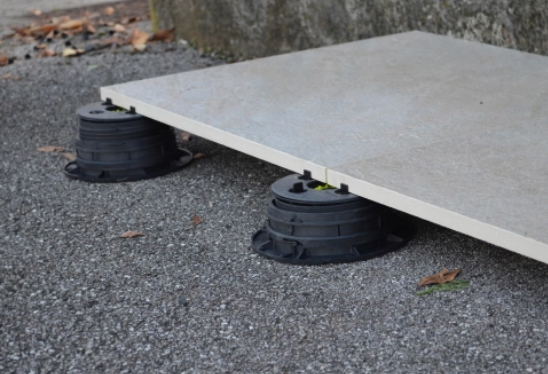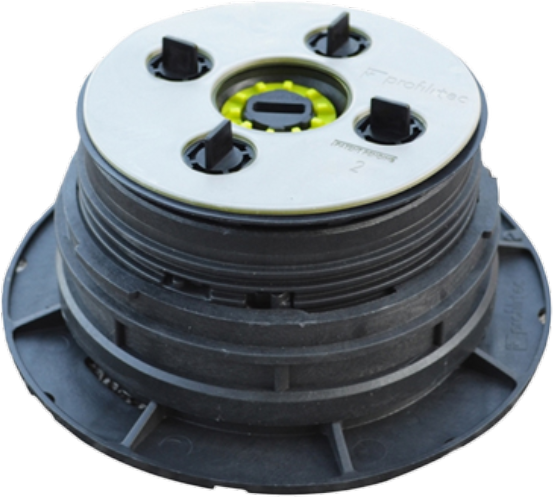 Fixed / Adjustable Pedestal Support (43 to 58mm)
If you want to install your 20mm thick PrimaPorcelain paving without any cement or adhesives, our versatile, self-levelling pedestal supports are the perfect solution. They're extremely user-friendly, with a simple switch mechanism that allows you to switch between fixed and adjustable height mode as needed.

Each support delivers outstanding load-bearing strength, and it's easy to take slabs up when they're not held in place with cement/adhesive. The supports even leave room for underfloor wiring!

Minimum height: 43mm
Maximum height (without extension collar): 58mm

Pedestal Extension Collar (+30mm)
Need to boost the height of your pedestal supports? That's what our extension collars are for.

Each collar adds an extra 30mm to the pedestal support's maximum height, and you can use up to 7 collars per support.

Fixed / Adjustable Pedestal Support (28 to 43mm)
Ideal for installing 20mm thick PrimaPorcelain paving slabs, these pedestal supports feature an easy-to-use switch mechanism that allows you to choose between fixed and adjustable positions.

Water drains away quickly, and each pedestal support has superb load-bearing strength.

Minimum height: 428mm.
Maximum height (without extension collar): 43mm
Porcelain Tile Installation Made Easy
Using paving pedestal supports makes porcelain tile installation a breeze! If you're interested in using porcelain paving pedestals for your installation, take a look at the paving accessories available from PrimaPorcelain today.