The easy way to install your patio!
Looking for a simple, time-saving way to install your new porcelain paving? The revolutionary Easy-Frame patio frame is the answer! The perfect alternative to our state-of-the-art
pedestal supports
, the Easy-Frame provides a sturdy, robust and long-lasting installation option for both residential and commercial projects.
What is an Easy-Frame?
Easy-Frame offers our customers an innovative substructure system that is designed to support a wide range of surfaces and products, including our high-quality porcelain pavers. Manufactured from galvanised steel, the Easy-Frame frame provides strong and reliable support that can be finished to suit any installation. When installed, the frames lock together to provide the base for your new paved area.
What makes Easy-Frame different?
Our Easy-Frame patio frame system differs from other frames in several ways, the first being that the frame itself is assembled off-site to match the exact dimensions you need. Each frame requires no more than two people to handle and can be easily transported through your property.

Secondly, due to their zinc coating, Easy-Frames aren't affected by temperature changes, moisture or frost thaw cycle. They do not rot, shrink or creep when under load.

Easy-Frame's gauge steel composition provides the highest weight-to-strength ratio of any option on the market, again providing a strong and reliable option. The design also allows adequate span between supports (2.4m standard), therefore limiting disturbance to the existing ground.

Patio installation made easy!
Look at what can be achieved in just 2 days using the Easy-Frame substructure system…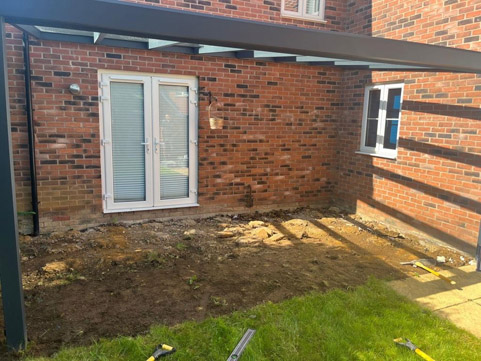 1) Getting started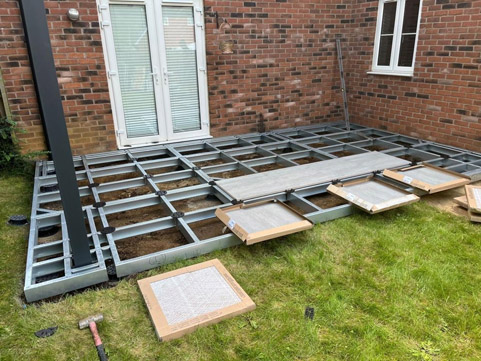 2) Installing paving slabs on Easy-Frame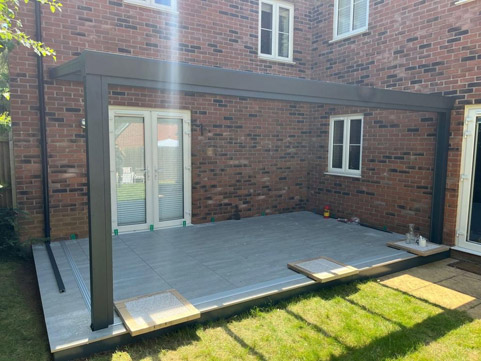 3) Finished in just two days!
Benefits of using our metal patio frame
Using the Easy-Frame for your patio installation provides many advantages, including:
Easy-Frame may be installed directly over existing areas without disturbing utilities and ensuring easy access to manholes and drains.
The frame can be installed flush against your property, allowing a seamless transition between your indoor and outdoor spaces.
Dimensional accuracy and structural stability allow you to achieve clean, contemporary styles with minimal hassle.
All electric and plumbing requirements can be safely housed within the framework and remain easily accessible.
Another great benefit of choosing this steel patio frame is that you can install your beautiful new porcelain paving slabs without any adhesives whatsoever! This revolutionary design, just like our pedestal supports, ensures a completely dry lay that eliminates any drying-out time, allowing for immediate use.
For more information about Easy-Frame and how it can be used with PrimaPorcelain paving, please contact us today.