Tips for Laying Porcelain Tiles & Paving
Installing PrimaPorcelain paving is an astoundingly easy task! Even if you're not a seasoned DIY expert, you'll discover that our tile and paving products are superbly simple and straightforward to lay. Here are a few tips that will make the whole process even smoother – if you have any questions, don't hesitate to contact us.
How many tiles/paving slabs should be ordered?
Calculate the m² area required or alternatively give us the dimensions of the area and we can work out the area for you. Decide how you plan to fix the porcelain – i.e. use the 10mm thick product on a suitable adhesive or dry install the 20mm thick paving on to pedestals (the 20mm product can also be installed using adhesive). For commercial installations you should consider using a central support/pedestal.
We recommend to allow 10% waste - why?
Almost all projects will require some tiles/paving slabs to be cut. You may wish to add a few additional tiles/paving slabs to allow for any breakages.
It is advisable to have a few tiles/paving slabs surplus to cover any future repairs.
Installation
PrimaPorcelain's porcelain stoneware tiles and paving slabs are characterized by a low water absorption level (less than 0.5%). Therefore, when laying your porcelain slabs, it is necessary to use specific high-quality adhesives – these are more suitable than traditional installation on cement. The most suitable adhesives for porcelain stoneware installation can be identified as follows:
ADHESIVES CLASS C2TE ACCORDING TO EN 12004
ADHESIVES CLASS C2F ACCORDING TO EN 12004 for quick-setting installations (for example, in case of low temperatures)
ADHESIVES CLASS S1 ACCORDING TO EN12004 for heating screed installation for big sizes (45x45,30x60, 60x60)
ADHESIVES CLASS SI ACCORDING TO EN 12004 for installations on existing floors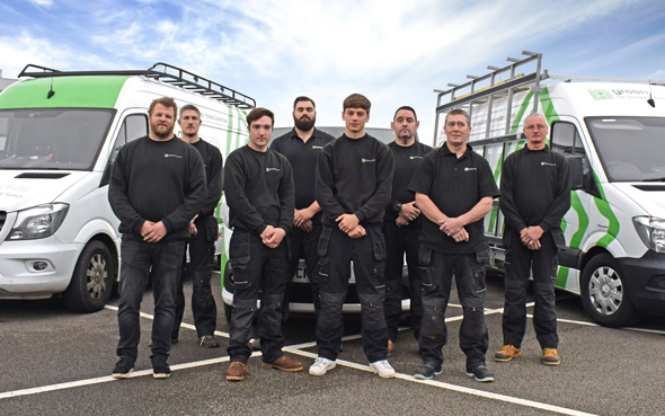 Joints-Grouts
Porcelain has a very close dimensional tolerance and very clean cut edges. This allows you to achieve a very high quality "architectural" finish. Therefore, only a minimal 2mm grout line/gap is required. However, we strongly advise against jointless (no gap) installations as even the slightest change in product tolerance or installation tolerance will affect the overall aesthetic.
Colour Variation
The marked chromatic variation (colour shade variations) and the veining of the product is an intrinsic feature and re-creation of the character of natural stone (randomness and richness of the colour shading in natural stone). For these reasons, when laying your porcelain tiles, we recommend choosing tiles/paving from different boxes/sections of the pallet in order to enhance the natural random effect. Due to these intrinsic features of the product, the colours represented on this site must only be considered an example of the many possible colour shades.
Planning
Before tiling, a plan should be drawn by yourself or a builder/installer. For careful planning, some basic and important requirements must be taken into account to achieve a good quality installation.
Once the space to be paved has been evaluated, the installer must then:
Decide what tools you require (check our installation page for details on cutting equipment and recommended blades)
Check and prepare the surfaces to be tiled/paved
Check your measurements, that the area is square (if not, how will you finish the edges – cut angled tiles/paving slabs or possibly leave a gap on the edge/s and finish with decorative aggregate) and if the floor is not level – our fixed support discs and pedestals allow you to level the surface of the finished porcelain surface
If installing porcelain on to a cement/mortar or adhesive base you must allow enough time for it to cure/harden before walking on the finished porcelain surface. Finally, grout the joints.
Where the tiles run up to a building/edge of balcony or roof terrace rather than cutting the tiles to fit the space you may want to infill with gravel/decorative aggregate.