Low-Maintenance Porcelain Paving
Transform your outdoor living space with PrimaPorcelain! We sell porcelain paving that is specifically designed for outdoor use. Our stylish paving looks fantastic in all sorts of outdoor settings, and they'll stay beautiful with practically zero maintenance.
Porcelain paving is becoming an increasingly popular alternative to stone. Our porcelain patio slabs have a very low porosity – meaning no stains, no water damage, and no need for sealing. Ideal if you want to spend more time enjoying your garden and less time looking after it!
Unlike traditional stone pavers and other
outdoor tiles
, the quality of our porcelain slabs does not diminish over time. We have a huge variety of paving designs to choose from, and we can even provide matching floor tiles to help you create an
indoor / outdoor transition
.
Why Choose Porcelain Paving?
PRIMAPORCELAIN VS. OTHER TILES
Porcelain Paving: Perfect Inside & Out!
Porcelain paving is a great choice for outdoor spaces such as gardens and patios. We also offer a selection of porcelain floor tiles for indoor use, too! Whether you're adding a conservatory or revamping your kitchen, we can help.

Better still, we offer indoor/outdoor transition tiles to create a seamless transition between your home and garden. For your safety, outdoor porcelain paving slabs are textured for extra grip and added slip resistance.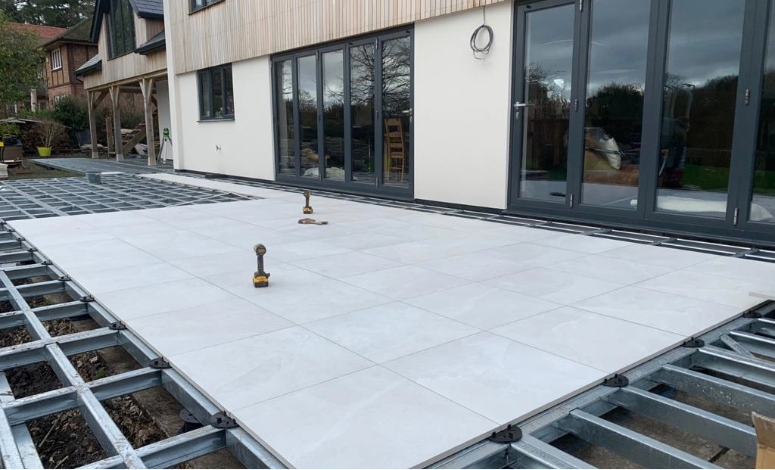 Install Your Porcelain Paving the Easy Way!
Our 20mm thick porcelain paving slabs are compatible with the revolutionary Easy-Frame patio frame, allowing you to lay your outdoor tiles quickly and with minimal fuss.
Easy-Frame has a sturdy gauge steel composition that will stand up to the elements for years and years. Multiple frames can be locked together to achieve the right size and shape for your new patio.
Learn More
British Weather Is No Match for Porcelain Paving!
Stain Resistant
Slip Resistant
Low Maintenance
Fade Resistant
Frost Proof
Browse All Outdoor Paving
Porcelain Paving FAQ
What is porcelain paving made of?
Porcelain paving is made from a combination of clays, sands and minerals (such as feldspar). These ingredients are mixed together with water, then baked in a kiln at very high temperatures. The result is an exceptionally durable paving slab that lasts for years and requires very little maintenance.
Is porcelain porous?
No – porcelain is far less porous (and thus less absorbent) than natural stone. Our moisture-resistant porcelain paving slabs absorb less than 0.05% of surface water! Our
outdoor porcelain tiles
are a superb choice for gardens that see a lot of wet weather.
Is porcelain paving slippery?
It depends on the product. All of our porcelain tiles and paving slabs have a 'grip factor' rating from R1 (very low slip resistance) to R5 (very high slip resistance). A higher rating means a lower risk of slipping. For outdoor spaces, we recommend our
outdoor porcelain tiles
which have a grip factor rating of 4 or higher.
What is the best way to lay porcelain slabs?
Our porcelain tiles can be installed in the traditional manner using a traditional cement mix and bonding agent, but the 20mm thick patio slabs can also be dry-installed using our
pedestal supports
or the revolutionary
Easy-Frame
system. This allows you to complete your new patio with minimal mess!
What is 'vitrified' porcelain paving?
When porcelain paving slabs are baked at an exceptionally high temperature, the material 'vitrifies', creating a glass substrate throughout the body of the tile. Vitrified tiles are highly durable and water resistant, and unlike standard ceramic tiles, no glazing is necessary to protect the surface of the product.
How much is porcelain paving?
The cost of porcelain paving varies enormously depending on who you buy from and the quality of their tiles. As with most things in life, you get what you pay for – cheap patio slabs generally don't look as good or last as long as premium porcelain paving products. PrimaPorcelain tiles range in price from approximately £30 per m2 to £60 per m2.
Does porcelain paving stain?
Our vitrified porcelain paving slabs absorb less than 0.05% of moisture, so stains are very rare. Most spills can be wiped away without a trace.
How thick are porcelain paving slabs?
Our outdoor paving slabs are typically 20mm thick. This superior thickness makes the tiles exceptionally strong and hard-wearing. We also offer indoor tiles, most of which are 10mm thick.
Does porcelain paving fade?
No – our porcelain paving slabs are fade resistant, meaning that they will remain beautiful no matter what the weather throws at them. During the manufacturing process, a special dye is mixed in before our slabs go into the kiln; the result is a consistent colour throughout the entire body of the tile.
View More FAQs
Case Study: Salisbury, Wiltshire
A couple from Salisbury, Wiltshire were looking for porcelain paving to create a covered terrace in their back garden. They chose our 20mm Cotswold Ivory porcelain paving slabs for a gorgeous natural finish. Now, they're making the most of their new patio by dining alfresco and relaxing after hours.
We are certainly very happy with our terrace and veranda - one of the best decisions in our house that we have made.
PrimaPorcelain's Happy Customers
Our experience with Prima Porcelain and Dimitar has been excellent. All products ordered arrived on time and the finished Patio areas look great. Highly recommended.
Steve & Deborah, Ashford Middlesex
The installation went well, and the installers were very professional and courteous. We are delighted with the finished space, and we've had lots of compliments from visitors.
S. Lloyd Jones, Bromsgrove
We came across this place by accident but really glad we found it. Dimitar was extremely helpful and listened carefully to our requirements, and suggested some great tiles. The tiles are excellent quality and look great in our Kitchen and living area.
Auvtar Lakhan, Slough
Read All Reviews
Porcelain Paving Gallery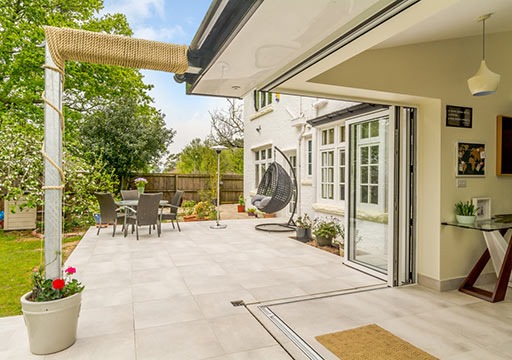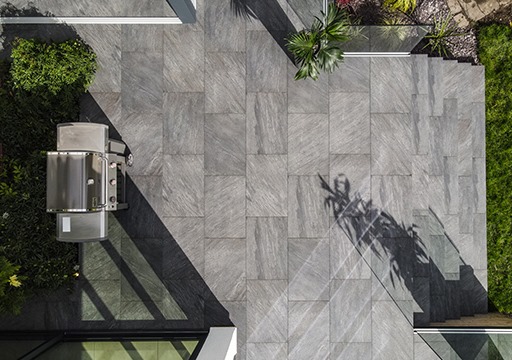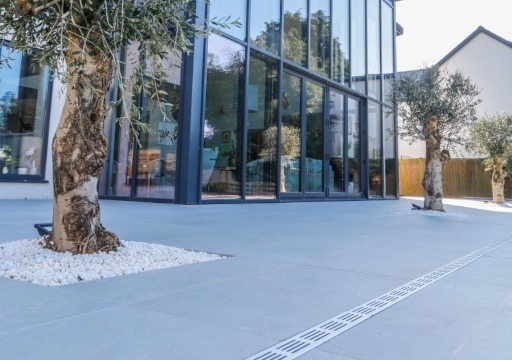 View Entire Gallery