Floor Tiles for Shops
You can't have a shop without a shop floor. It's where all the action happens, and a crucial part of the establishment. A shabby shop floor will deter potential buyers; if you work in the shop fitting industry, you'll already know how much difference a well-designed environment can have when people are deciding whether or not to make a purchase.

And that's where our porcelain tiles come in. Few flooring products are as pretty, as pronounced, as all-around perfect as porcelain; if there is such a thing as the ideal floor for any space, we're fairly certain that we've found it.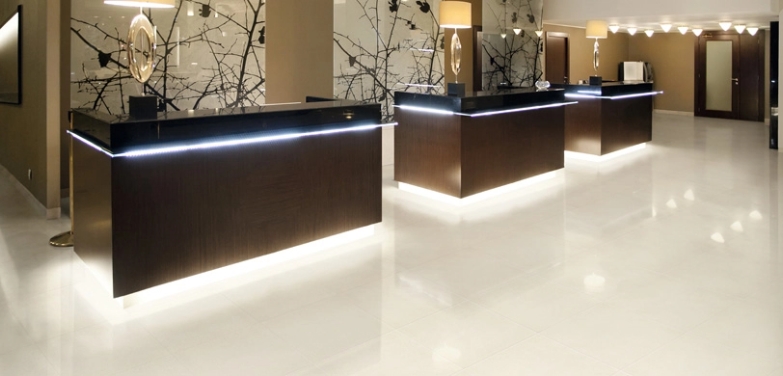 Choose from a range of stylish porcelain tiles
Perhaps we're exaggerating a little, but it's hard to deny that porcelain tiles look terrific in a retail environment. The tiles are available in a variety of dazzling designs, any of which would catch a customer's eye as soon as they came through the door. They're also well-equipped to deal with the heavy foot traffic that the retail space will be experiencing; we've yet to see the floor tiles that more elegantly balance beauty and resilience.
What's more, if the shop you're fitting incorporates an external area, our porcelain products can brighten up these spaces as well! In addition to the 10mm thick porcelain tiles that we can provide for your project's interior, we also supply paving slabs which are tailor-made for outdoor use. The 20mm thick paving slabs come in all the same styles as their indoor counterparts, allowing you to match indoor space to outdoor space! We're happy to work with shop fitters throughout the UK, so if you think that your latest project would benefit from the addition of PrimaPorcelain tiles or paving slabs, why not get in touch? All of our contact details can be found on our Contact page, so call
029 2080 3756
and discuss your requirements with our porcelain experts today!
Get In Touch