Porcelain Paving for Public Spaces
Selecting a flooring material for a public space can be difficult. Inclement weather, of course, is a major concern for any outdoor area, but publicly-accessible spaces have another problem to contend with: foot traffic. By their very nature, public areas get a lot of footfall, and this can be very problematic for materials that aren't designed to cope with heavy foot traffic.

Happily, we at PrimaPorcelain can provide a variety of attractive outdoor flooring solutions that won't fail when exposed to the feet of the general public. Read on to find out more, or request your FREE PrimaPorcelain sample pack.
Free Samples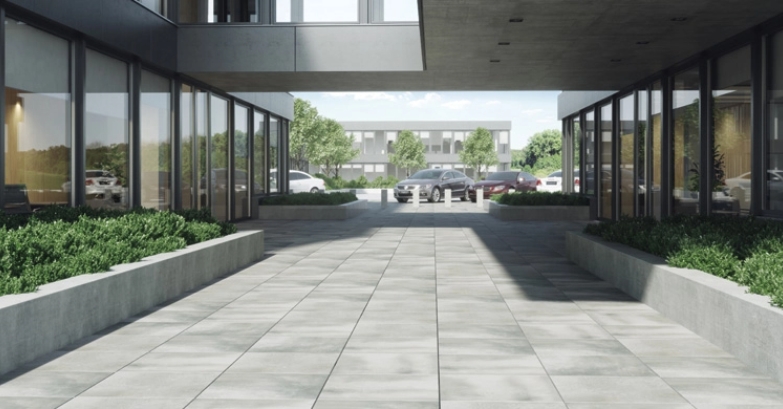 What makes porcelain paving perfect for public spaces?
We have often worked with clients who design and construct public areas, and these interactions have given us a firm grasp on what's required for such projects. Durability is a crucial consideration, and our hard-wearing slabs have this in spades; PrimaPorcelain paving is baked at 1,200 degrees Celsius, causing the tiles to vitrify throughout. This means that our products are significantly stronger than ceramic tiles and other alternatives.
The weather isn't a problem either. Porcelain has a much lower porosity than natural stone, and where stone paving slabs must be sealed frequently in order to cope with water, our porcelain paving can handle the elements without any care or maintenance whatsoever.
View Our Porcelain Products
Another thing that's made us a popular choice for public spaces? The sheer range of colours and designs that we offer. Whether you want the area you're creating to look sleek and modern or classical and elegant, we're bound to have a style to suit your requirements.
If you'd like more information about our tiles and paving for public spaces, please don't hesitate to get in touch. You can reach us on
029 2080 3756
, or via email at
commercial@primaporcelain.co.uk
.