Porcelain Tiles for Pubs
Whether you're refurbishing the interior of your public house or adding an attractive outdoor seating area for your patrons to enjoy, we are confident that PrimaPorcelain's high-quality porcelain paving is the perfect flooring solution for your project. We frequently provide indoor and outdoor flooring materials to public houses and bars, and the response that we receive from landlords and their contractors has never been anything short of outstanding.
Read on to learn why our pub tiles are such a perfect choice, or give us a call on
029 2080 3756
to speak with a member of the PrimaPorcelain team. You can also reach us via email on
commercial@primaporcelain.co.uk
.
Contact Us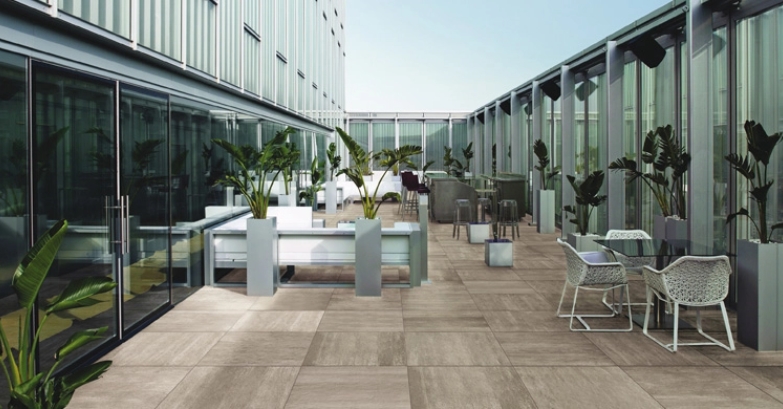 Our products are ideal for public houses
Of all the compliments we've received from pub staff, perhaps the most common concerns the low-maintenance properties of our products. It can be a chore to clean and look after the floor of a busy pub – even more so if there's also a beer garden or outdoor seating area to stay on top of – but our porcelain tiles require practically no upkeep and are exceptionally easy to clean.

Our products are designed to last for years, and to stay looking good no matter what life throws at them. PrimaPorcelain's manufacturing process uses extremely high temperatures, ensuring that our porcelain tiles are solid and sturdy throughout; furthermore, everything we supply is scratch-resistant, so the scrape of bar furniture will have little to no impact on the appearance of your pub tiles!
Porcelain is notable for its extremely low porosity (compared to natural stone paving). This means that PrimaPorcelain's products are far less susceptible to stains and water damage than most alternative materials – good news if your customers are always spilling their drinks!

These are just a few of the reasons why our porcelain products make the perfect pub tiles. If you are interested in specifying PrimaPorcelain for your public house, we recommend that your order a free sample pack in order to take a closer look at what we have to offer.