Hotel Tiles & Paving Solutions
When specifying products for a hotel, it's important to ensure not only that your choices will appeal to your guests, but that they will retain this appeal for years to come. Hotels can get extremely busy, and certain flooring materials will weather and degrade when exposed to lots of foot traffic for an extended period of time.
Fortunately for our clients in the hospitality industry, PrimaPorcelain's hotel tiles and paving products are different. Read on to find out more, or give us call on
029 2080 3756
to speak directly to a member of the PrimaPorcelain team.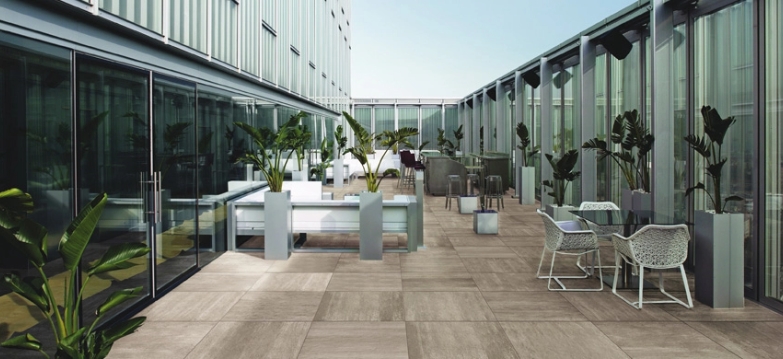 Why choose PrimaPorcelain for hotels?
As mentioned above, hotel tiles must be able to cope with day after day of heavy foot traffic whilst remaining attractive to all who view them. Our porcelain products meet this brief perfectly – everything we supply is hard-wearing, long-lasting, and scratch-resistant, ensuring that they will last superbly well in practically any environment.

And we do mean any environment! PrimaPorcelain offer tiling/paving solutions for both indoor and outdoor spaces, so whether you need a robust flooring material for the hotel lobby or some attractive paving slabs for an outdoor area, we are more than capable of meeting your needs.
View Our Porcelain Products
PrimaPorcelain clients have a huge number of different colours and styles to choose from when selecting their hotel tiles. Click here to view our product range in full – we're confident that you'll find something to enchant your guests and fulfil every one of your requirements.

If you'd like to take a closer look at what we have to offer, we suggest you order a free sample pack. Each pack contains three samples and a copy of our full colour brochure.
Order A Free Sample