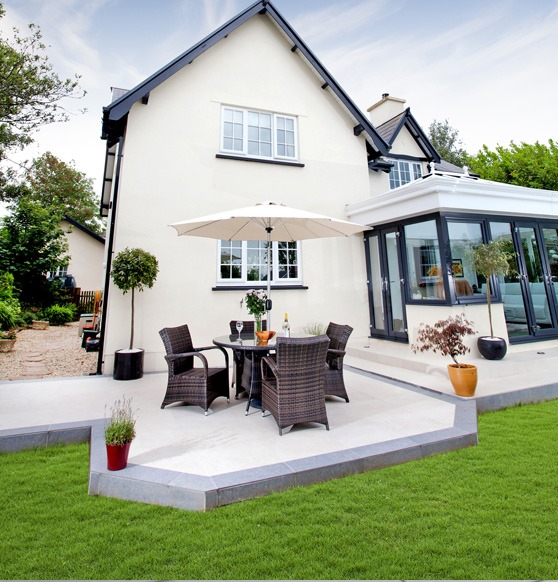 Case Study: Case Study: Swansea, South Wales
Porcelain paving is a sensational choice for the patio. With minimal maintenance requirements and a clean, contemporary look that suits almost any outdoor design, it really is rather perfect – we're yet to see a garden that porcelain wouldn't look good in.

If you still need persuading, consider the case of Mr Griffiths from Swansea. He made the short journey to our Cardiff showroom in search of some paving options for his patio, and he was positively bowled over by what we had to offer.

During his visit, Mr Griffiths spoke with the PrimaPorcelain team. We showed him all of our available paving colours, and there were two designs in particular that caught Mr Griffiths' eye: the lighter Italian Limestone Vanilla and Italian Limestone Midnight.
Combining Two Contrasting Colours
Now, most PrimaPorcelain customers stick with a single colour for their patios, but having seen the diversity that was available to him, Mr Griffiths decided that he would incorporate two different paving styles into his outdoor space. Shortly after his visit to Cardiff, Mr Griffiths called to confirm his interest in our porcelain paving and to request a quote – he had decided to pave his patio with Italian Limestone paving tiles, while the somewhat darker Italian Limestone tiles would be used to create a contrasting border around the edge of the area.

Mr Griffiths was kind enough to send us a few photos of his finished patio, and we think that it looks absolutely stunning. The use of two contrasting colours was an inspired tactic, and the creamy, modern-looking Italian Limestone paving is even more appealing with those classy Italian Limestone slabs around the edge.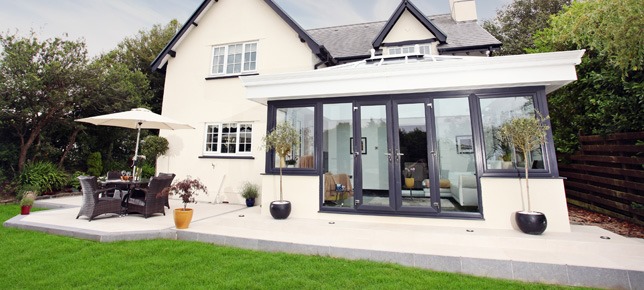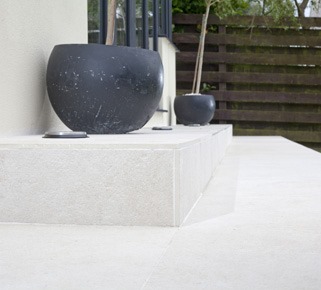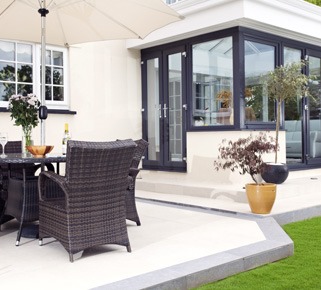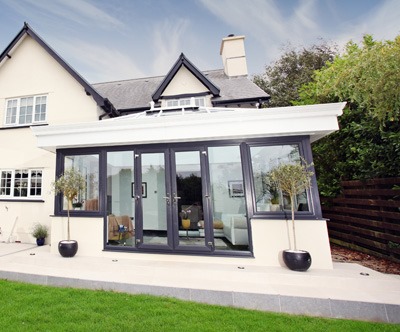 But as striking as the colours are, we're just as enamoured with the smaller details of this outdoor design. For one thing, the patio is a rather unusual shape, with a semi-hexagonal seating area positioned just to the right of the conservatory; thanks to our porcelain paving, this now looks like an utterly perfect place to enjoy an evening meal outdoors.

Mr Griffiths' patio also incorporates a couple of steps, which separate the conservatory from the lawn. The steps themselves are very nice indeed, joining seamlessly with the aforementioned seating area, and the integrated garden lights make the whole space look extra-beautiful after dark.

All in all, we are thrilled with the outcome of this Swansea paving project, and Mr Griffiths seems very happy as well!

If you're looking for high-quality paving in Swansea, Cardiff, or anywhere else in South Wales, give PrimaPorcelain a call on 029 2080 3750. You can also order a free sample pack to order your free sample!