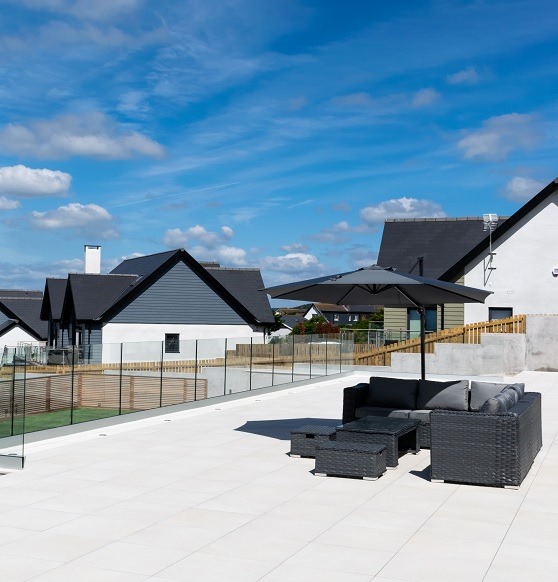 Case Study: Raised Patio
The owner of a spectacular detached home in the Vale of Glamorgan (not far from Wales's southern coastline) was in the process of refurbishing his property, and as part of this overhaul, he decided to add a raised patio to his back garden.
After visiting the PrimaPorcelain showroom, this customer took home a sample of our 20mm thick Sandstone White porcelain paving. He eventually decided that our high-endurance, low-maintenance porcelain would be the perfect fit for his raised patio, and he proceeded to order 250 square metres of paving slabs.
A raised patio with the perfect view
Now that it's finished, this customer's resplendent raised patio truly is a sight to behold.
PrimaPorcelain's Sandstone White slabs give the area a bright, attractive appearance, and they've been installed to perfection using our cement-free pedestal supports.
Porcelain-paved steps lead down to a verdant green lawn, and the frameless glass balustrade provides the perfect finishing touch without spoiling this property's jaw-dropping sea view.
Could our porcelain paving be a good fit for your own patio? Order up to 3 free samples here.