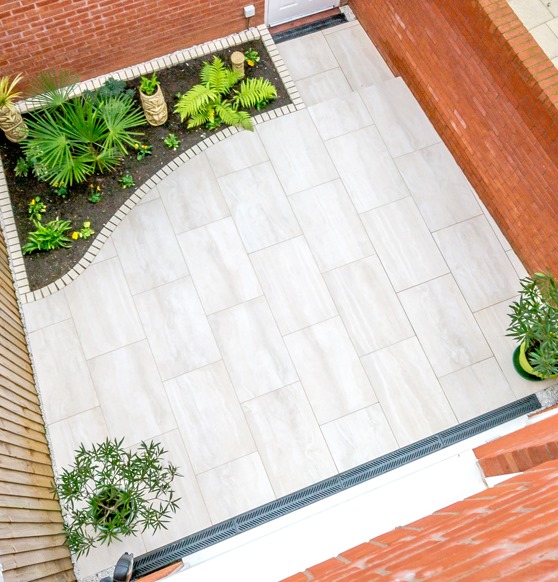 Case Study: Penarth, South Wales
This couple from Penarth moved into their new-build home in October 2016 and soon realised that the small patio area in their rear garden was an area of their home that needed improving. After looking for quite some time for the right supplier and type of tile, they finally decided that porcelain was the choice for them. After visiting our Cardiff showroom, they came across our extensive range of porcelain products. After a brief chat with our porcelain expert Gareth, they decided to choose PrimaPorcelain's stunning 20mm Ivory Travertine paving slab as the product to transform their outdoor space.
The stunning finished look was achieved with some very impressive craftsmanship from the contractor, who expertly cut our slabs to fit the curve that the couple had wanted. After sourcing matching colour edging bricks, the final look was complete.
What Our Customers Had to Say
"When we visited, we were pleasantly surprised to see the large display of Porcelain tiles then. We had been looking for quite a while at different suppliers & the various types of tiles available. As we were ultimately looking for easy care & low maintenance, we had concluded that porcelain tiles were what we wanted."
"Gareth was particularly helpful, we saw him several times before we settled on the actual tile we wanted. He was genuinely interested in the project we were undertaking & was able to give us good advice, nothing was too much trouble."
"What convinced us to go with PrimaPorcelain was not only that we loved the tile & the fact that all the edges were rectified (I was impressed when they arrived all individually wrapped) but also Gareth's enthusiasm for the product and the way he dealt with us. The fact that there was a 25% price reduction was an added bonus!"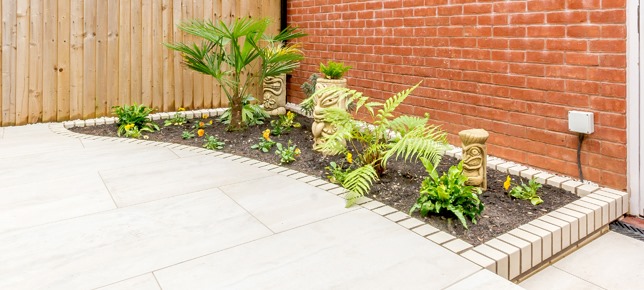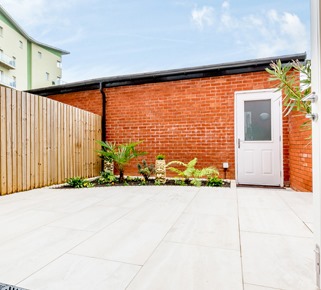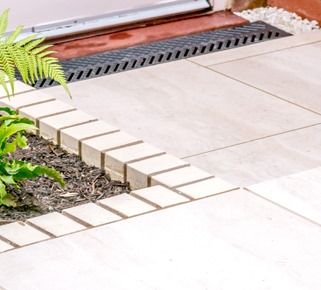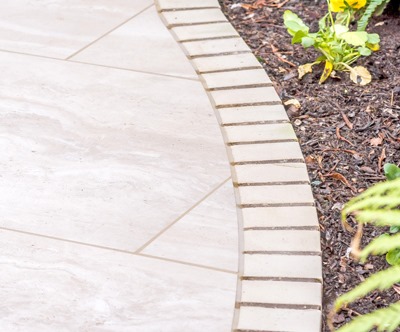 Everyone here at PrimaPorcelain is delighted at the way in which this project has turned out, especially as this is smaller than what we usually see, something which more homeowners can look to and achieve with their own outdoor spaces.
As a result of choosing PrimaPorcelain's paving, which is manufactured with the very best materials available, this couple can rest assured knowing that their new garden will look beautiful for years to come! Without the need for regular maintenance and care, they can spend more time enjoy their space and less time cleaning it!
If you're looking to re-design or create a new outdoor living space with gorgeous, low-maintenance porcelain tiles, do not hesitate to contact us today or order your FREE tile and paving samples.