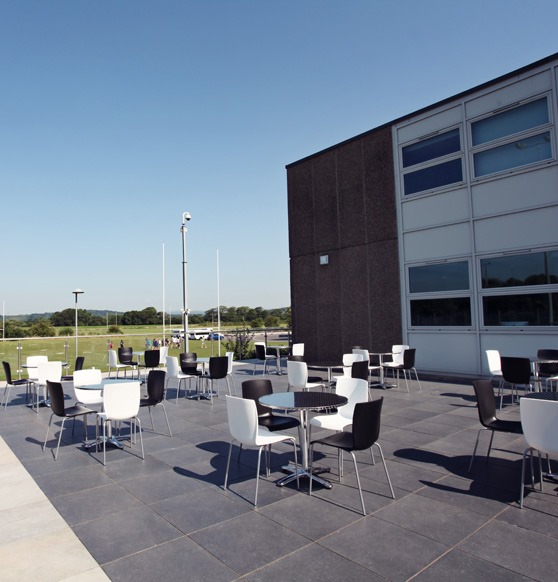 Case Study: Porcelain Paving in Cowbridge
With very few maintenance requirements and superb slip-resistant properties, PrimaPorcelain's 2cm paving is an excellent flooring option for schools and colleges with outdoor areas. The clean, contemporary appearance of our porcelain slabs is also an advantage, making paved areas more appealing to students and teachers alike.

These were the qualities that caught the eye of Brandon Walters, who contacted PrimaPorcelain in 2014 to request some paving samples. Mr Walters is the Business Manager for Cowbridge Comprehensive, a secondary school in South Wales, and he needed a paving product for the school's café/outdoor seating area, which was being refurbished.
Combining Two Different Paving Colours
The seating area overlooks Cowbridge Comprehensive's impressive sports field, which consists of a full-size, all-weather 3G football pitch (complete with full floodlights) and a multi-use games area, which is used for rugby, tennis, netball, lacrosse, and a variety of other outdoor activities. All of this makes for quite a view, and Mr Walters wanted the refurbished seating area to look just as splendid as the playing fields below. We sent him a selection of samples, and after some deliberation, it was decided that two different paving colours would be used: Italian Limestone Midnight and Quartz Twilight.

The finished café/seating area boasts a two-colour design that's very attractive indeed. The Quartz Twilight paving was used to create a light-coloured border that contrasts wonderfully with the darker, bolder Italian Limestone Midnight paving in the centre of the patio. The overall effect is stylish, striking, and magnificently modern-looking; a real credit to the school!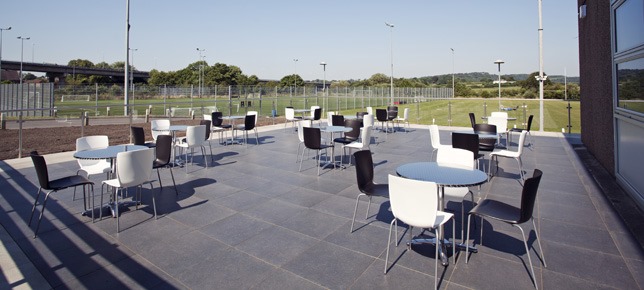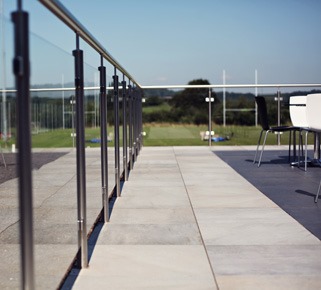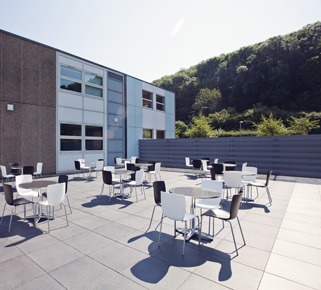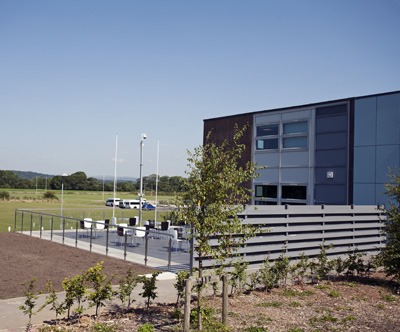 Mr Walters organised the installation himself (note that our 2cm thick paving slabs can be dry-installed without any cement or adhesive), and a glass balustrade was added to complete the project and provide that fabulous finishing touch. The paved area is now used by the staff and students of Cowbridge Comprehensive every day, and yet those hard-wearing porcelain slabs will keep their stunning appearance even with all of that foot traffic passing over them.

If you would like to use PrimaPorcelain paving in your school or college, give us a call on 029 2080 3750. Whether you are based in South Wales or elsewhere in the UK, we would be more than happy to discuss your project with you.