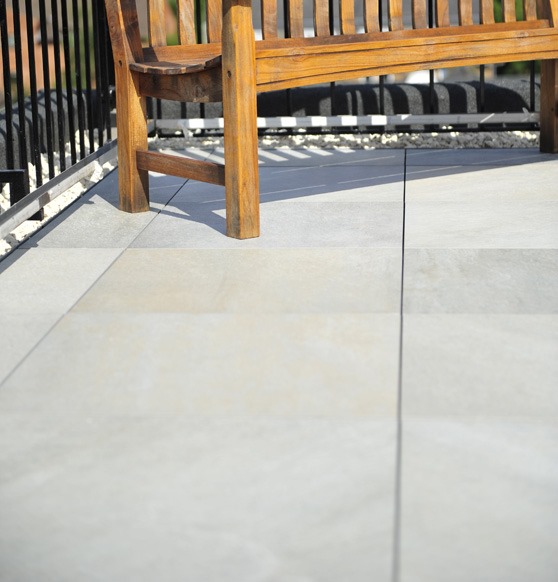 Case Study: Barnet, Hertfordshire
Our 2cm paving is obviously a fantastic choice for the back garden, but have you considered using our products as part of a brand new roof terrace design? That's exactly what Jackie and Raymond Cohen from Barnet did - their terrace looked tired and worn, but with the help of our beautiful roof terrace tiles, the area now looks better than ever!

In the first instance, Mr and Mrs Cohen got in touch with Melissa (a member of the PrimaPorcelain sales team) to discuss decking options for her terrace. After ordering a free sample pack and taking a look at our decking products, Jackie and Raymond expressed some uncertainty – their existing terrace was paved rather than decked, and it was eventually decided that the new roof terrace design ought to follow suit.

It was at this juncture that Melissa introduced the Cohens to our attractive, high-quality porcelain paving. We supplied another set of free samples to give the couple a better idea of our paving slabs, and this was enough to convince them that the 2cm thick paving was the best choice for the new roof terrace design.
Visiting the Site
Mr and Mrs Cohen decided that our Quartz Twilight paving would be the best choice for their roof terrace, and it's easy to see why – the subtle tones and classical effect would look great in any outdoor space. They particularly liked how easy our slabs can be removed if necessary (i.e. if there was a leak, or some new wiring to lay). Instead of laying our paving slabs all the way to the edge of the terrace, we left a small space around the perimeter and covered this with decorative aggregate for contrast. This creates a rather lovely framing effect, making the beautiful Quartz Twilight tiles stand out all the more!

Once we had established all of the important details, our professional installation team went to have a look at the roof terrace and to undertake an initial survey of the site. While they were there, the team had a chat with Jackie and Raymond to make sure that they were happy with every aspect of the product they had chosen.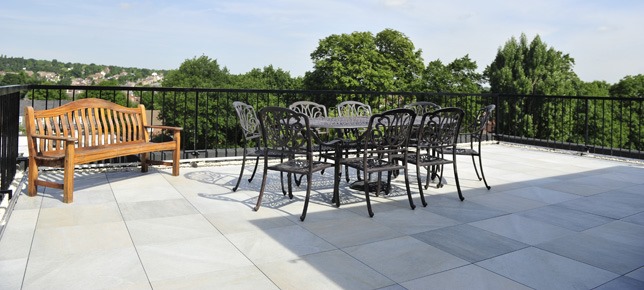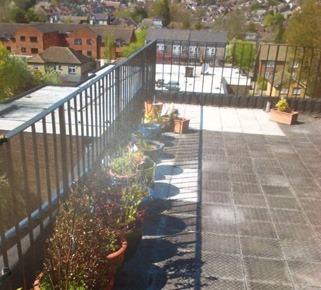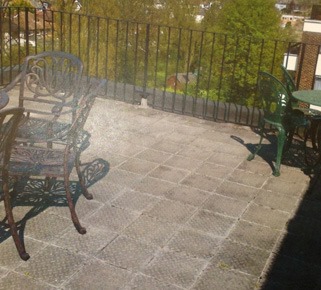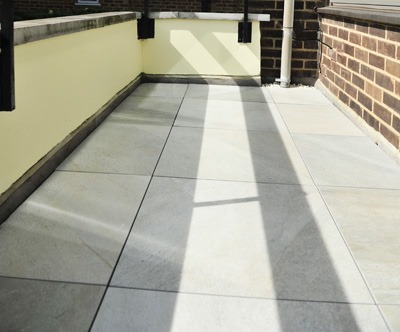 Before long, it was time for the installation work to commence. Our installers completed the project in just two days; since the 2cm thick paving slabs were installed using our ingenious support discs, there was no need for any bonding agents, resulting in a much quicker installation process.

As you can see from our photos, the finished roof terrace design is a lot nicer than the previous look. The quartz-effect paving looks positively resplendent, and it's hard to imagine a lovelier outdoor seating area.

"We are very happy with it – looks lovely, cleans well, doesn't seem to stain, and water drains away in between the tiles."

If you'd like to enquire about your own roof terrace project, the PrimaPorcelain team would be more than happy to hear from you! Our products are of the highest possible quality, and just as we did with Raymond and Jackie Cohen, we'll collaborate with you every step of the way to ensure that you're completely satisfied with the finished space.

To request a quote for your project or find out more about our porcelain products, please contact PrimaPorcelain today. You can also request a FREE sample.